The Scene - 10 Best things to do in Wilmington for FALL!
FINALLY! The temperature has dropped and it actually feels like fall! Even with the explosion of pumpkin spice everything, the recent, humid 80 degree days have made it hard for me to get in the fall mood. Now that it's here though, it's time to pack in as much fall fun as we can! Here is my top 10 list of great things to do in the area for fall!
1. Mike's Farm
Take a day this weekend and make a trip to Beulaville to visit Mike's Farm, you won't be disappointed! Event though it's a little bit of a dive (about an hour from Wilmington) this one made the list because it has so much to offer. From pumpkins to sweet treats to a petting zoo!
Highlights:
Pick pumpkins right from the patch This is something I have always wanted to do. Pricing is based on weight, $0.69 per pound
Go on a hayride Hayrides run Tuesdays + Wednesdays from 1:00-5:00, Thursday + Friday from 1:00-dark and Saturday from 10:00-dark. The cost is $2 per person, children under 3 are FREE
Fill your belly You'll feel like family after filling up with country cooking staples like fried chicken, mashed potatoes, vegetables and country ham biscuits, served family style. Thursday + Friday from 4:30-8:00 and Saturday from 12 noon- 8:00pm
2. Lighthouse Beer + Wine Festival
Leave the kids at home, grab your pretzel necklace and come out for this year's beerfest! Personally, it's one of my favorite days of the year! This year, the festival will be held in beautiful downtown Wilmington on October 28th.
Highlights:
Beer! Need we say more? This festival doesn't disappoint. Sample beer + wine from over 100 different craft breweries. If you want to go all out, you can get a VIP ticket which gets you into the festival a whole hour earlier. Enjoy shorter lines and also get to sample small batch specialties before they run out.
More beer! For the true beer aficionado, don't miss the Voracious + Rare Beer Festival held the night before [October 27th] on the deck of the Battleship. A smaller event with appetizers and live music, here you'll find limited release beers from over 30 breweries. Tickets for this event are $75.00.
Food In addition to the beer + wine there will be great food vendors on site and also live music from Rayland Baxter. Food vendors include Mellow Mushroom (pizza and beer, yes!), Poor Piggy's, 2 Bros Coastal Cuisine, La Bella Airosa, Culinary Creations and our personal favorite, the Catch Food Truck!
The main festival runs from 1:00pm-5:00pm and regular tickets are $40.00, vip tickets are $55. You can also make an additional donation to benefit the Carousel Center which supports abused women + children.
3. Hubb's Corn Maze
Another one that's a little off the beaten path but worth the trip is Hubb's Corn Maze. Located in Clinton, about an hour from Wilmington, this is an a-maze-ing spot for fall fun. It of, course has the very popular corn maze and a smaller hay bale maze for the little ones!
Highlights:
Navigate a giant corn maze The corn maze at Hubb's Farm is one of the largest in eastern NC, covering over 10 acres. There are three different starting points you can choose depending on how challenging you want your adventure to be and each maze has an interactive scavenger hunt for even more fun.
Run around This is kind of a vague highlight, but there is tons to do at the farm. From a giant jump pillow, to double barrel slides, later tag, human foosball and a mini zipline theres something for everyone.
Slow down After running around all day, you might want to get something to eat, sit down at a picnic bench or roast marshmallows over the fire pits. The corn maze is open after dark too, so remember to plan ahead and bring a flashlight if you want to go through again, or you can rent one from the farm store.
Hubb's farm is open Fridays from 6:00-10:00pm, Saturdays from noon to 10:00pm and Sundays from 1:00-6:00pm. Admission is done by passes depending on which activities you want to have access to. Prices range from $13/person to $25/person with kids 2 and under getting in free.
4. Poplar Grove Plantation
If you've never been, you're missing out. Whether it's fall, spring or any other time of the year, Poplar Grove Plantation is a great place to visit. Located in the Scott's Hill area between Porter's Neck and Hampstead, it's easy to get to and they've got a few special events going on just for fall!
Highlights:
Explore the paranormal If you're looking for a spookier fall activity, try the paranormal ghost tour at Poplar Grove. Be sure to book in advance because tours are selling out quickly. Currently there are 5 tours left: Thursday, October 26 at 7:00 and 8:00pm and Friday, October 27 at 7:00, 8:00 and 9:00pm. Tickets are $15 and the tour begins in the basement of the Manor House, a lighted pathway will guide you there.
Grab some gourds, swipe some squash Fall brings some of my favorite veggies and the best way to enjoy them is straight from the garden. Join Poplar Grove on Wednesdays through October 25th from 8:00am to 1:00pm for their Farmer's Market. You'll find fresh, local produce, herbs + plants, homemade baked goods and lots of arts + crafts.
Enjoy the outdoors There is tons to do all around Poplar Grove, but especially when the weather cools down, it's a great time to explore. There are miles and miles of great trails for a leisurely walk with the dog or a nice outdoor workout. You can also meet some of the many animals on site through the Stable Tours, Wednesdays at 10:00am and 12:00 noon. The $5 admission directly supports the Equine Rescue Program.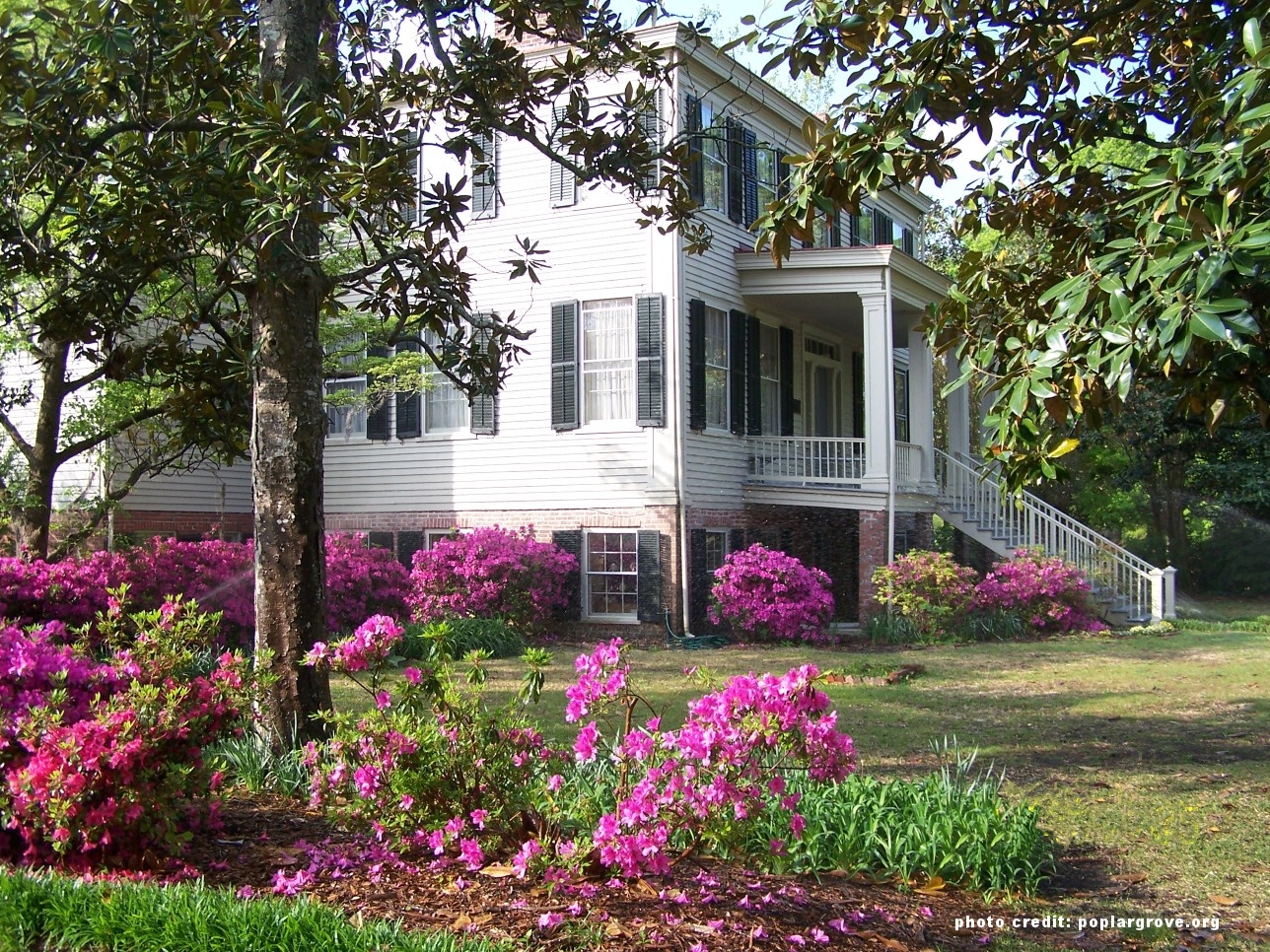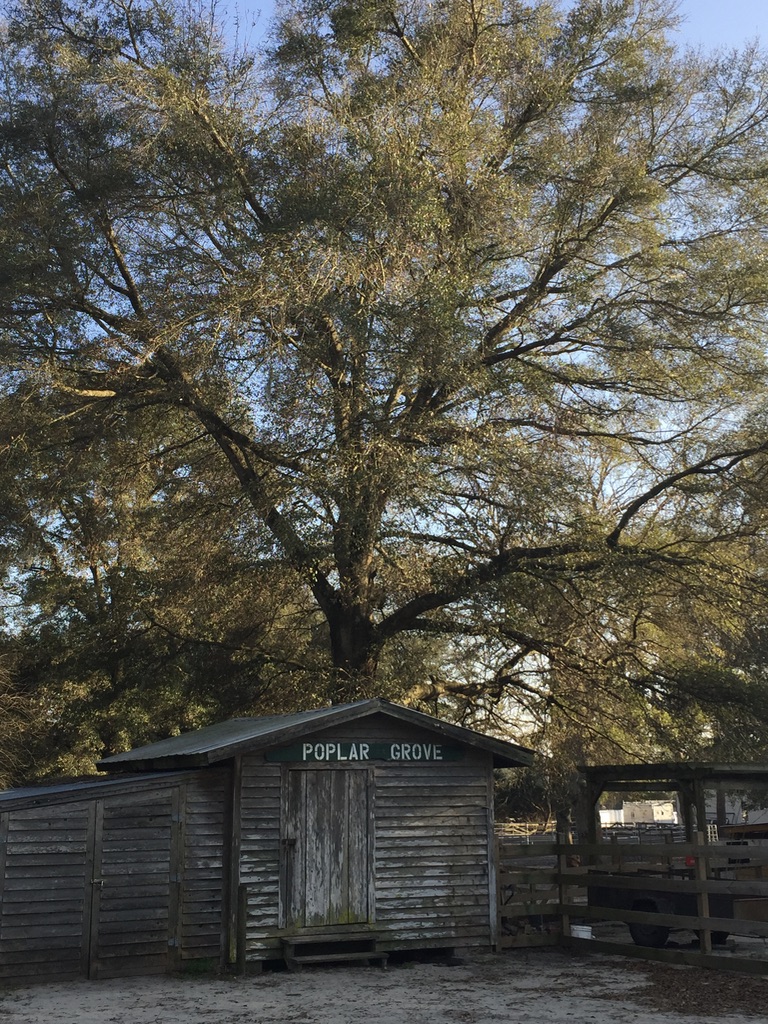 5. Go Chicken Coop
Here's another mini-trip destination. Later in the list we'll get to some in-town stops but sometimes I think it's fun to get in the car and go somewhere new. Not just down the road but somewhere that feels fresh and different. Head over the Cape Fear Bridge towards Leland and in less than 30 minutes, you'll come to Go Chicken Coop in Winnabow.
Highlights:
Unplug + enjoy In the words of the coop, "Our mission at Go Chicken Coop is to steer kids away from their devices and have some good old-fashioned country fun!"
Compete the fall fun trifecta Hay ride, corn maze and pumpkin pickin'. There's also playgrounds, picnic areas and a farm train!
Go Chicken Coop is open to the public weekends, Saturdays from 10:00am-5:00pm [hayrides stop at 5:00] and Sundays from 12 noon to 5:00pm [hayrides stop at 4:00]. Admission is just $8/person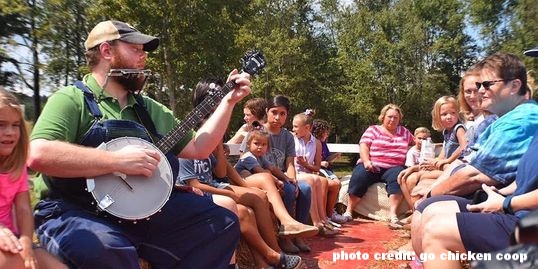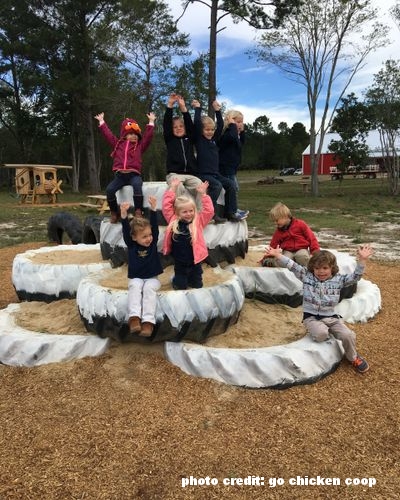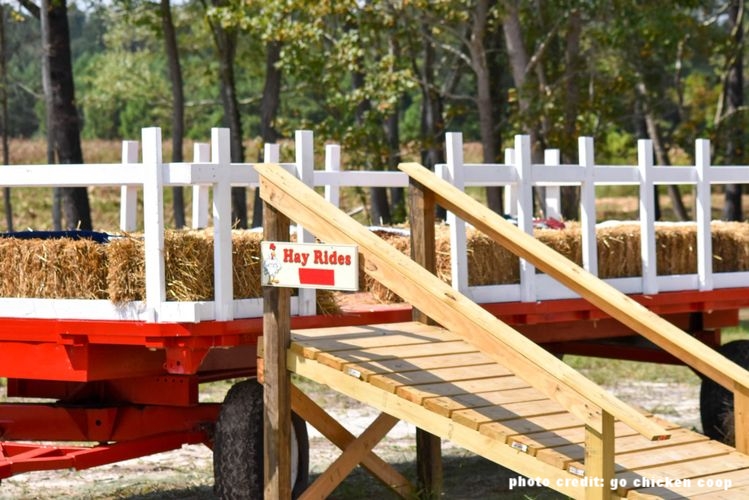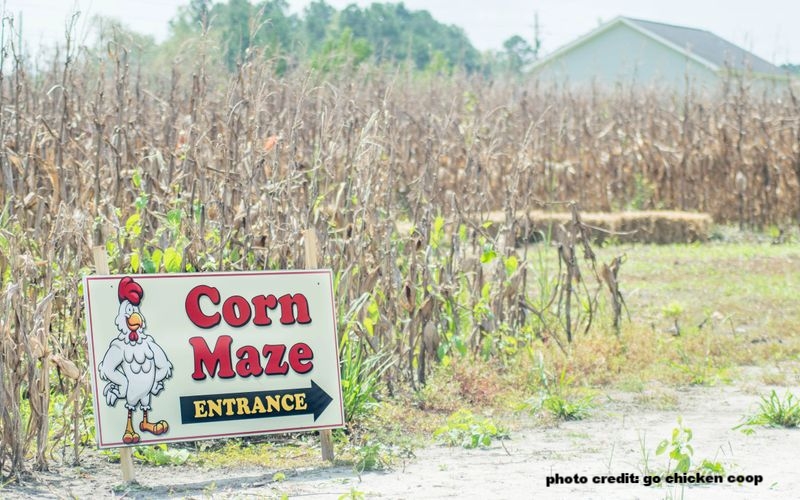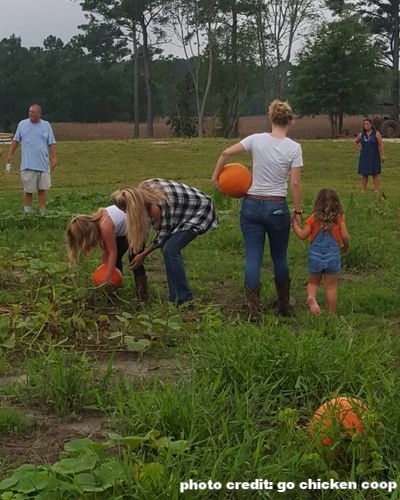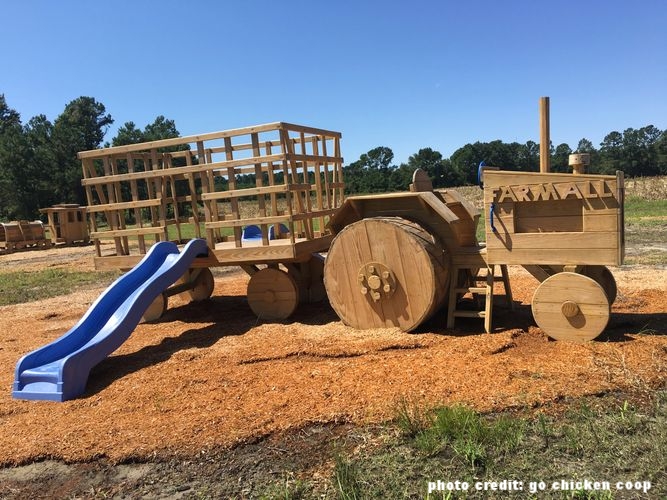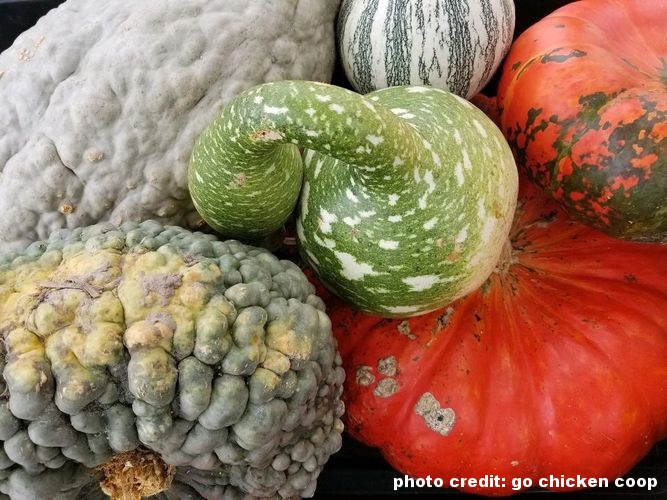 6. Pumpkin Patch at Wesley
This has been my go-to pumpkin spot for over a decade. It's right in the middle of town, just off College Road at the corner of Peachtree, and has been a pumpkin staple since 1990.
Highlights:
Say cheese There are tons of cute backdrops around the patch to capture a sweet photo of your family. Get some pics with the pumpkins, stick your head through a cutout or pose with the entire family on some hay bales.
Give back The pumpkin patch is staffed by the church's youth group and proceeds benefit mission trips, local mission support, church equipment + supplies and more.
Bring the whole gang If you have a kids group or class, you can schedule free story time in the patch, just call the church at 910-791-4092
7. Oktoberfest at Ogden Tap Room
You'll have to get moving on this one quickly, because it's TOMORROW! Ogden Tap room in, well Ogden, is hold its annual Oktoberfest event this Saturday, October 21 from 11:00am-11:00pm. Admission is Free!
Highlights:
Put your dancing shoes on They'll have live entertainment all day featuring music from the Harbor Townfest Band
Watch the weiners One of the most popular events of the day is the weiner dog race. There will also be bounce houses for the kids
Prost! Grab your lederhosen and really get into the spirit. There will be plenty of German beers, brats and other festive food to enjoy
8. Trick or Treat Under the Sea
Dress up and head down to Fort Fisher and the North Carolina Aquarium for this really cool annual event! It is held for three nights only, from 4:30pm-8:00pm Thursday, Friday and Saturday, October 26th-28th. Tickets are only available in advance, so be sure to plan ahead.
Highlights:
Abracadabra "No Sleeves Magic" will be performing shows long with other games and Halloween fun
Get up close and personal Throughout the night they'll have special live animal encounters. In addition, you'll be able to see and learn about all sorts of creatures from alligators to sharks to jellyfish
Dress up In addition to visitors trick or treating in costume, the divers will also be dressed up and swimming around the tanks.
Admission is $13.00 for children and adults. Aquarium members receive 10% off and kids under 2 are free.
9. Mansions of Madness- Wilmington Horror Story
For those of you that are looking for something a little more sinister, check out the mansions of madness. Two famous mansions downtown, the Bellamy Mansion and Burgwin-Wright House are transformed into immersive haunted houses and brought to life by the very talented theater troupe, Pineapple-Shaped Lamps.
Highlights:
Become a part of the show Pineapple-Shaped Lamps has created an interactive theatrical experience unique to each house
Liquid courage If you need a little beer or wine to bring out your bravery, they'll be available at both houses. Non-alcoholic refreshments will also be available
Tours begin at 7:00pm at both houses and groups are admitted through midnight. Tickets are $35 and include admission to both the Bellamy Mansion and the Burgwin-Wright House. Not recommended for young children.
10. Nest County Fair
In all fairness, we're a little biased, but this is one of our favorite events! It's a great opportunity for us to spend time with past and future clients, family and friends. Held at Hugh McRae Park on October 28th from 12:00 noon to 4:00pm, this is a free event but you've got to be "on the list"! Contact us and we'll get you registered and give you all the necessary details. We'd love to have you join us!
Highlights:
Bring the whole family There will be bouncey houses, face painting and other activities for the kids.
Something for the adults too We'll also have delicious craft beer from Waterman's Brewing and wine
Tap your toes + make a plate L Shape Lot will be entertaining us with live music and Moe's Original BBQ will serve a great lunch.